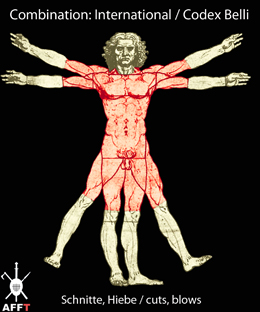 A hit system that combines the international and Codex Belli system. It is used by us and is trained in the Southern German region, and it's growing in popularity in various events and training communities.
All cuts and blows between shoulders and thighs count. Arms below the shoulders and legs below the knee don't count in the hitzone (See picture Hits and cuts).
The hitzone for stabs lies between shoulders, the whole torso and the thigh (see picture stabs). The arms are irrelevant.