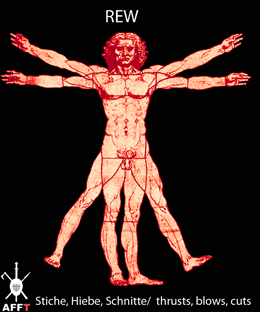 Our friends Dengeln-in-Bayern already said it perfectly, so we want to share a sample of their link: 
This is the realistic reconstruction of medieval group battle. Not only is it about using the entire body as hitzone, but also to use the weapons efficiently and realistically.
The REW is a very young battle system. Many great events already work with expanded hit zones (f.e. Wolin, Neustadt-Glewe) for their fights. The VK in this instance, however, is based on the teachings of Roland Warzecha and Tobias Wenzel, a.k.a Toke von Hammaborg. Their unique technique with the big round shield is due to the fact that the specific options of the weapons in VK are used realistically and efficiently (f.e. Stabs to the face, practical uses of the shield etc.)
To adhere to the origins of this, a great technique and lots of training to master it is necessary. Every single trainee must practice regularly.