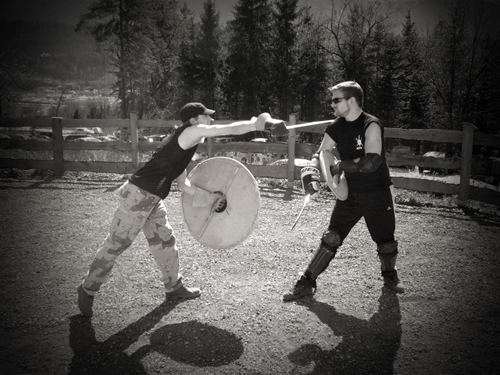 Safety
Despite every member of the group being responsible for their own actions, we still try to ensure the safety of all involved during the training. First and foremost this means the definition of the allowed tools (weapons).
According to weapons law it is allowed to use steel weapons without a sharpened blade (that means the edge of the blade must be at least 3mm thick) and without sharp tips (that means the tip of the blade has to be round, no spikes are allowed) during the sport.
The same applies to all other kinds of swords, axes, spears and other weaponry.
Our group demands at least padded gloves (Hockey, Lacrosse) during the training. It is in the interest of each member to decide for themselves what other kind of protection they want to use, however we strive to train everyone to be good enough so that additional padding is not needed.
As mentioned earlier, one of the most important security aspects is that the trainees act in responsible ways with each other. Thinking before acting and being respectful to others is the first step in preventing accidents.
AFFT members can use modern protection equipment, in stark contrast to reenactment groups.